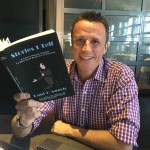 'Who's Reading My Book?' #29 features celebrity chef Marc Murphy.
Marc, my 2nd cousin, grew up all over the world, including Milan, Paris, Rome, and Washington DC, because his dad, Peter Murphy, was an international diplomat and ambassador.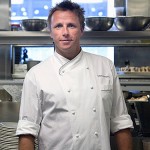 Marc attended the Institute of Culinary Education in NYC and, upon graduation, apprenticed as a chef in France and Italy. After working at Prix Fixe in New York City, Marc was off to Paris and Monte Carlo before returning to NYC and becoming executive chef at Cellar in the Sky at Windows on the World and then LaFourchette. Marc eventually opened several of his own, very successful restaurants in the city and recently opened a new Mediterranean Restaurant at the Seminole Hard Rock in Tampa, Florida.
You'll probably recognize Marc from his many TV appearances as a regular judge on The Food Network's popular Chopped program as well as Iron Chef America, Beat Bobby Flay, The Rachel Ray Show, The Today Show, Unique Eats, Grocery Games, The Best Thing I Ever Ate, and several other cooking shows. Marc is also an author and his debut cookbook, 'Season With Authority: Confident Home Cooking,' was released last year.
See why everyone is reading and raving about Paul D'Angelo's hilarious new book 'Stories I Tell,' a global Gold Medal Winner of the 2015 eLit Book Awards; a Finalist in the 2015 International Book Awards; voted Honorable Mention in the 2015 New York Book Festival..
You can buy the book at Paul's web-site: www.pdangelo.com
or on Amazon.com at Paul's author page: http://amzn.com/069229435X
Paul's highly anticipated follow-up book, 'More Stories to Tell: A Lawyer Turned Comedian Puts Everyday Life on Trial,' will be released very soon.