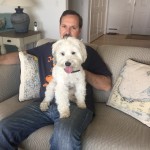 I grew up in a different era.
When I was a kid, dogs walked around freely in the neighborhood and nobody ever picked up after their dog, yet somehow we survived and everyone seemed to be a little happier and less stressed than we all are today.
Now there are strict leash laws and the neighborhood Poop Police patrols the streets, watching to make sure that people pick up after their dogs.