Created and written by Paul J. Murphy (D'Angelo)
The following is a SHORT synopsis of the pilot episode
Married for over twenty years, former high-school sweethearts Paul and Patty Murphy are the perfect couple… everyone knows that, and that's one of the major reasons that Paul is a successful marriage counselor and the best-selling author of five self-help relationship books: Endless Honeymoon, Wedded Bliss for Dummies, Relentless Love, Mr. & Mrs. Right: Until Death Do Us Part and Every Day Can Be Valentine's Day.

What his admiring fans don't know is that Paul and Patty just got drunk and obtained a "quickie" divorce while vacationing in Mexico because they can't stand each other anymore! Their impromptu break-up sounds like a good idea, until the Murphys realize that splitting-up will most-likely destroy Paul's reputation and they won't be able to maintain their extravagant upper-middle-class lifestyle, put their two spoiled kids through college and support Patty's insatiable spending habits.

Reluctantly, Paul & Patty agree to create the appearance that they are still the happily married couple the naïve public thinks they are until they can somehow come-up with a solution… but it's not going to be easy because their nosy next-door neighbor, sleazy divorce-attorney Sonny Swift (the hilarious Bob Seibel) is determined to bring down the man whose success is disrupting his shady law practice. Snooping Sonny gets all worked-up when Paul invites a feuding couple over for dinner in a desperate effort to wiggle-out of this awkward predicament… and the results are hysterical!

A Fine Mess was created and written by Paul D'Angelo, the former Boston-area Assistant DA and criminal-defense attorney turned comedian/writer, who the LA Times has referred to as "quite likely the funniest entertainer you've never heard of… yet." It co-stars the incomparable actress/comedienne Patty Ross (Buffy The Vampire Slayer; Roseanne; Two Girls and a Guy) in a well-written, character-driven series that has all the potential to become an instant classic.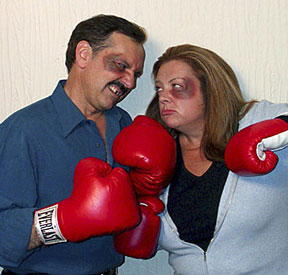 Sitcom Info Page 2nd Script Synopsis 'A Fine Mess' Cast & Credits Show Promotion

HOME 'A Fine Mess' Production Photo Pages: I II III IV V VI VII
To contact Paul regarding this sitcom, e-mail him at: pdangelocomic@aol.com
Copyright © 2014 Paul D'Angelo All rights reserved.
Unauthorized Reproduction is Prohibited