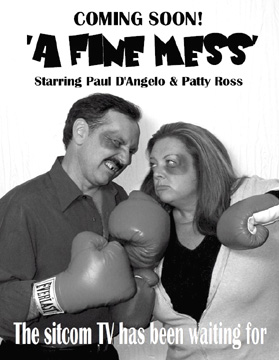 Episode 2:

Paul D'Angelo has just completed the script for the 2nd episode for 'A FINE MESS' entitled 'Bird Brains.' When a dirtball client of Paul's nosy next-door neighbor, sleazy attorney Sonny Swift, can't pay the legal fee before his trial for bank-robbery, Sonny demands some collateral to back-up his debt. Mugsy shows-up to offer his pet as security, a valuable talking-parrot named 'Larry Bird' that has a talent for repeating any conversation he overhears.
Sonny gets a brain-storm and abruptly decides to take his family away for the weekend so he can leave the parrot with Paul and Patty, who are fighting as usual. Paul agrees to "bird-sit" as a way to avoid attending a Saturday afternoon wedding with Patty and missing the big football game he "has to" watch on TV. Patty's so furious, she spreads a rumor about Paul's manhood to the wedding guests and, when she returns home, the fireworks begin... all in the presence of Sonny's little, feathered "spy."
Sonny returns home early, hoping that he has finally obtained proof beyond a reasonable doubt that the Murphys aren't the perfect couple that Paul's adoring fans think they are, and the bird spills his guts to him. While Sonny's family travels home by bus to learn the shocking truth first-hand, Paul visits Sonny to borrow a sleeping bag for his anticipated night on the couch. While he's in Sonny's home, Paul inadvertently utters the words that trigger the parrot to speak and listens to the bird mimic an argument he just had with Patty.
Paul rushes back to tell Patty and, after he talks her out of assassinating the animal, they agree to kidnap the bird and replace it with a replica that has a clean slate... that is, at least until Paul applauds himself for such a brilliant idea and proclaims, "No one will ever catch us, Patty!"
"CAW... No one will ever catch us, Patty!... CAW"
What a bunch of bird-brains!
(Paul has also outlined twenty additional high-concept episodes of 'A FINE MESS')