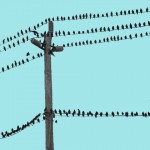 Birds on a Wire
Animals are better than human beings.
Have you ever seen hundreds and hundreds of birds perched side-by-side on a telephone wire?
You'll notice that they are all getting along peacefully… balanced in harmony on a thin chord stretched between two telephone poles.
Humans could never, ever get along like that.