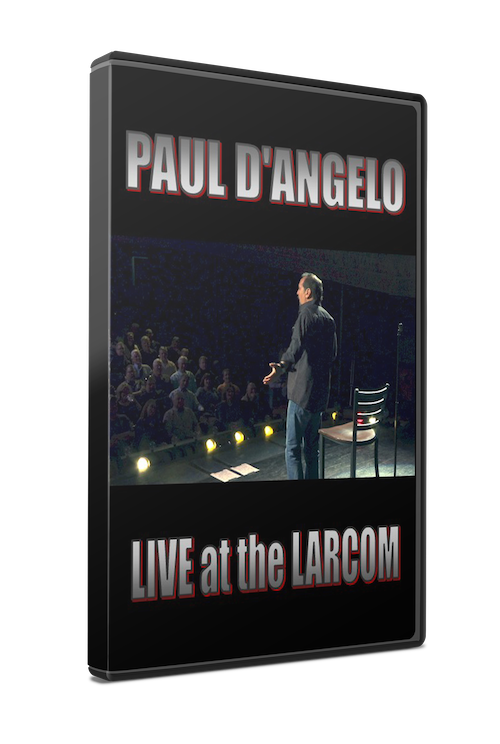 Live At the Larcom
© Copyright – Paul D'Angelo / Paul D'Angelo (798576762360)
Stand-Up Comedian Paul D'Angelo's 'Live at the Larcom' was recorded at the beautiful Larcom Theatre in Beverly, Massachusetts on April 19, 2014.
Paul's 2nd DVD release complements his critically acclaimed DVD debut, 'Court Jester,' with all different material.
The video was directed and edited by Bob Lewis.
The audio was engineered by Douglas Stevens, AKA 'Red Peters,' of Handsome Brothers Music.
Joe Forte was the Director of Photography, along with cameramen Nick Kolinsky & Robin Shahid.
The original music, 'Rockabilly Roll,' was composed by Edward Grenga, Michael McMahon and Douglas Stevens
of Lunch Special Music.
Genre: 
Spoken Word: Comedy
Tracklist
Introduction
Snow, Then & Now
Snow-Blind Date
Fool-Proof Forecast
Whether the Weather
The Earthquake Kit
No Reservations
P.C. Pledge of Allegiance
Bad Timing
Body Language
What Goes Around…
Great Expectations
'Paulmark' Cards
Food Police Brutality
Stiff Competition
Stayin' Alive
Big Yellow Limousine
Bats in the Belfry
Playground Paranoia
Toilet Training
Ladies' Man
Arrogant Teenager
Dad's Remote Control
Math Quiz
Spoiled Rotten
Dropped Call
Tiger Woods Video Golf
Bottled H2O
Christmas Eve
Noises At Night
Birdhouses
The 'Larry Bird'
Time Warp
Jealousy
No Good Deed…
Women Love Cats
Honesty
Song Lyrics
Suck World