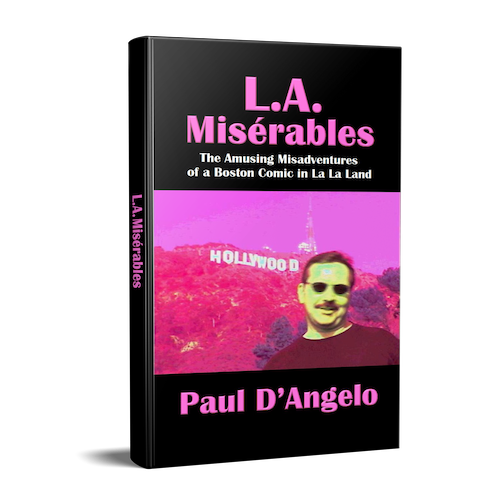 L.A. Misérables: The Amusing Misadventures of a Boston Comic in La La Land
© Copyright – Paul D'Angelo
Paul Murphy managed to juggle two extremely diverse, full-time careers for over fifteen years. He worked as a prosecutor in the DA's office, supervising some of busiest courthouses in Massachusetts, before becoming a successful criminal-defense trial attorney.
So what's the big deal? At the same time, he was also headlining comedy clubs and shows as stand-up comedian Paul D'Angelo.
Something eventually had to give…
In 1996, Paul put his legal career on hold and moved to an apartment building on Hollywood Boulevard to pursue his dream of breaking into show business and quickly rocketing to stardom… but it didn't quite work out that way.
From the moment Paul arrived in LA, things started to suck, and he needed a way to stay creative and vent his frustrations, so he kept a hilarious, daily diary as a chronological memoir of his inevitable rise to the top… or maybe not.
But, hey… when everything is going well, life isn't all that funny.
However, when things don't exactly turn-out like you planned, the tension mounts, the city surrounding you is the world's biggest carnival side-show and you're a sarcastic comic from Boston who is getting more pissed-off every day, the gloves come off.
L.A. Misérables: The Amusing Misadventures of a Boston Comic in La La Land is the first of six full-length diaries that Paul D'Angelo created while waiting for his big break… and waiting… and waiting…
Now take a peek behind the curtain of both the entertainment industry and the courtroom as Paul expresses his exasperation with the LA comedy scene, his drastic change in lifestyle, and the decadence of Hollyweird, with the side-splitting humor that has made him one of the country's best comics.
Genre:
Written Word: Comedy
---