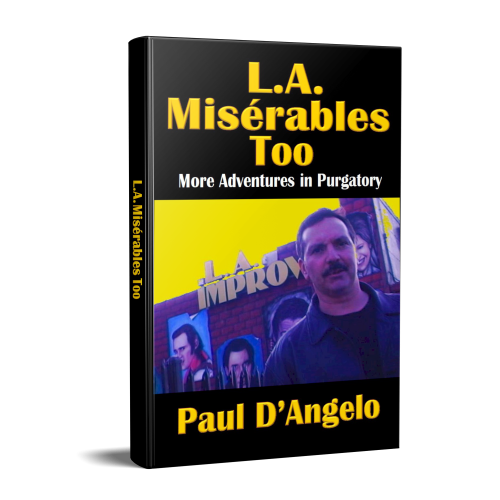 L.A. Misérables Too: More Adventures in Purgatory
© Copyright – Paul D'Angelo
In 1996, former Boston-area assistant district attorney and criminal-defense trial attorney Paul D'Angelo left his successful law practice behind to relocate to Hollywood and focus on his promising career as a stand-up comedian.
Most every artist struggles at the beginning of their career, but Paul had successfully held-down both of those full-time jobs as he was building-up an impressive list of accomplishments as a comic. It was time for Paul to move-up to the next level, but he'd have to abandon his dual occupations and essentially start all over, forgoing his hard-earned status in the comedy community, his financial security and comfortable lifestyle, and the support of his friends and family.
But why not? It shouldn't take long for Hollywood to recognize Paul's talents and make him a big star, right? Not so fast… it became immediately evident that this was not going to become one of those inspirational overnight-success stories.
As the frustration mounts, his relationship deteriorates, and his bank account dwindles, Paul vents his aggravations through a daily diary that was supposed to memorialize his meteoric rise to the top, but instead becomes a hilarious account of an exasperated fish out of water, railing about the absurdity of the entertainment business, the depravity of Hollywood, and the endless array of bizarre characters who now shared his world.
L.A. Misérables Too: More Adventures in Purgatory is the second of six full-length diaries that Paul D'Angelo created while waiting for his big break… and waiting… and waiting…
In this second installment of the L.A. Miz series, go behind the scenes of showbiz and the legal profession and join Paul as he chronicles his day-to-day efforts to rise to the top of the comedy food chain, in the uproarious style that has made him one of the country's best comics.
Genre:
Written Word: Comedy
---