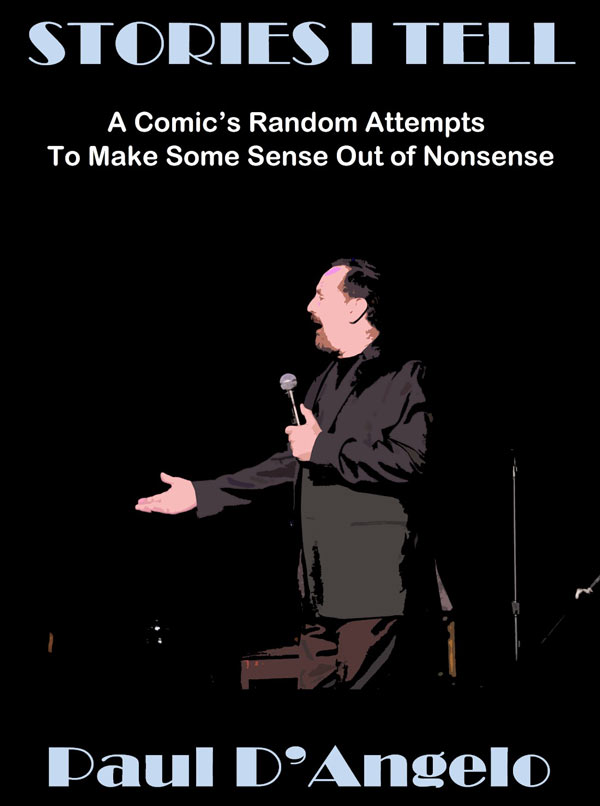 Original cover artwork by Paul D'Angelo
Critics have written that Paul's "constantly evolving and diverse selection of original material takes normal everyday experiences and makes them sound absolutely hilarious." "His quick comedic mind," "unique observations" and "down to earth, stop-and-think humor" "keeps the crowd in hysterics."
Known as a prolific creator of intelligent, introspective and reflective humor that everyone can relate to… men and women, young and old, blue or white collar… there are still numerous comedy routines, funny stories and anecdotes that Paul rarely gets an opportunity to share with his live audiences.
For that reason, Paul has now presented many of these comedic treasures in a random collection of entertaining musings titled Stores I Tell: A Comic's Random Attempts to Make Some Sense Out of Nonsense. The eclectic subject matter ranges from hilarious courtroom stories, to the dilemma facing an unhappy Eva Braun as she contemplates breaking-up with Hitler; from a stand-up comic's life in Hollywood, to being attacked by a Great White Shark in his own water-bed; and from satirical commentary on contemporary society, to Paul's awkward attempts at conversation while having lunch with Jesus.

Look for book-signing events and promotions on this 'Stories I Tell' page and/or Paul's schedule page.
Special thanks to editor Matthew Phillion and Peter Sarno of PFP Publishing for their assistance with the production of the book.
www.pfppublishing.com
PRINT & KINDLE EDITIONS
FROM AMAZON.COM
HERE
-
AUTHOR'S PAGE ON AMAZON
HERE
-
Quotes from reviews:
"Without a doubt the most entertaining book I have had the pleasure to read. The originality and humor has me laughing long after I finished the book."

"Tell me, who thinks like this? This may be the funniest book that I have ever read. I laughed my way through the whole thing."

"I have never read a book in 48 hours. I could only put it down when I needed to wipe the tears from my eyes because I was laughing so hard."

"Stories I Tell is a hysterical compilation of intricately woven, laugh out loud musings from the authors brain...an unforgettable journey from start to finish and a must read for anyone who needs a good laugh - or several. Highly recommend it."

"Love this comedian, I knew his book would be outstanding and it is."
You can e-mail Paul D'Angelo at pdangelocomic@aol.com
Copyright © 2014 Paul D'Angelo All rights reserved.
Unauthorized Reproduction is Prohibited